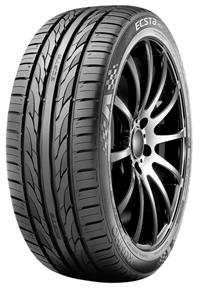 Kumho Ecsta PS31
Key Features
A solid center rib and stylish lateral grooves reinforce block stiffness and improve wet breaking.
Wide lateral grooves maximize water displacement when cornering and prevent irregular wear due to the 0-10 degree angle range.
Wide four-channel circumferential grooves improve hydroplaning resistance.
3D dimple design minimizes heat build-up on tread blocks, enhancing high-speed durability.
Microgrooves with diagonal siping allow water to drain efficiently to avoid hydroplaning.
The sidewall's racing-inspired checkered design communicates the tire's ultra-high performance capabilities.
Vehicle Category: Passenger
Performance Category: Performance Summer
Contact Us About This Tire
14 Available Sizes
Size
Load/Speed Index
Run Flat?
Overall Diameter
Price
15"
195/55R15
85V
23.40"
205/55R15
88V
23.90"
16"
205/50ZR16
87W
24.10"
17"
215/45ZR17
91W
24.60"
215/55ZR17
94W
26.30"
225/45ZR17
94W
25.00"
225/55ZR17
101W
26.80"
235/45ZR17
94W
25.40"
245/40ZR17
91W
24.70"
18"
215/40ZR18
89W
24.80"
215/45ZR18
93W
25.60"
245/40ZR18
97W
25.70"
245/45ZR18
100W
26.70"
275/35ZR18
99W
25.60"